Wondering how to use TikTok for business? Looking for tips to increase your TikTok success?
In this article, you'll discover four ways your business can succeed on TikTok.
Is Your Audience on TikTok?
TikTok is the newest trend in social media with more than 1.5 billion downloads on the App Store and Google Play and more than 500 million active monthly users. The platform consists of 15- and 60-second user-recorded videos that allow for in-app editing and integration with the other major social players.
The largest demographic of TikTok users is between the ages of 16 and 24. But if you think TikTok is just a fad for Generation Z, think again. Since its inception in 2018, TikTok has evolved from a video-creation app solely meant for users to express their creativity to a marketing and advertising haven.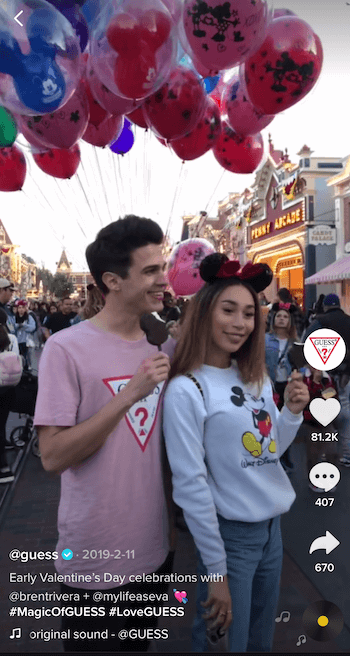 You've likely seen the ways brands use Instagram to engage with consumers through posts, stories, live videos, and IGTV. TikTok allows brands to engage with users through video, only in shorter, bite-sized clips. In the last 12 months, brands have created accounts on the platform to explore and engage with consumers. On Tiktok, you can find everyone from influencers and celebrities to politicians and the average Joe.
The allure of TikTok for businesses is the sheer number of active users on the platform. It's still unclear exactly how the algorithm works but it seems to be much easier for your video content to go viral on TikTok than on other social media platforms.
If your business is ready to try TikTok, here are four types of content to get you started.
#1: Create Your Own Content on TikTok
Even if your brand isn't well-known, you can still effectively use TikTok for marketing. It all starts with planning great content and using the following best practices.
Be authentic: Most social media users don't have access to expensive camera equipment or production budgets. They create content with their phones and their time, which is authentic to who they are. Take the same approach with your own content. By revealing your brand's true personality, users will feel connected to you and relate to you, which builds trust.
Use the two magic ingredients: The two ingredients that generally lead to TikTok content going viral are pets and children. Because the platform's demographic is younger, there's more interest in watching humorous and entertaining videos with children and animals. If your office has a mascot or office pet, include it in your content. And consider having one of your team member's kids teach you a hashtag challenge dance and film it.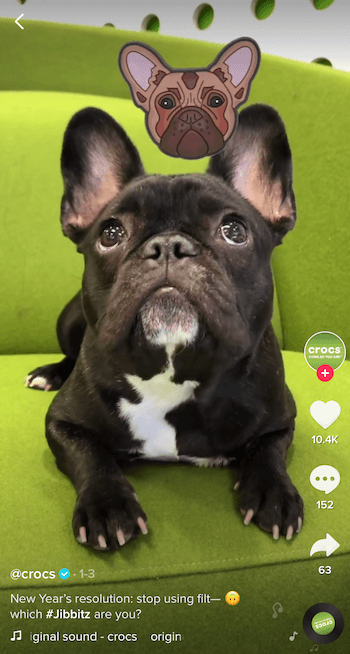 Remember, TikTok isn't the place for squeaky-clean first impressions and fake smiles. It's a place for authentic entertainment, humor, and fun.
Add your own spin: You don't have to struggle to come up with new and unique content ideas for TikTok. The platform is based around community engagement and hashtags so all you have to do is find existing content and make it your own.
Take part in hashtag challenges or trending dances and songs. If there's a trend in your niche about having a productive morning routine, show your own. Your unique brand story and personality will differentiate you from others in the same category. Look at what's already successful on the app and put your own spin on it.
Before you start creating content, get a feel for TikTok's unique style. It's not a formal or uber-professional platform; it's a space for users and brands to experiment with trends, act silly and playful, and show another side of themselves. Tap the magnifying glass button in the bottom menu to open the Discover page where you can see the top trending videos and hashtags. Explore the videos to see how other users make their content.
Create Your First Video
When you're ready to create your first video, tap the black plus button at the bottom of your screen. TikTok will ask for your permission to access your phone's camera, photos, and microphone.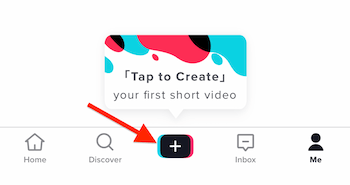 Next, you'll see the recording page come up with a red circle to start recording. Choose either the 15-second or 60-second option first. Then start making your video!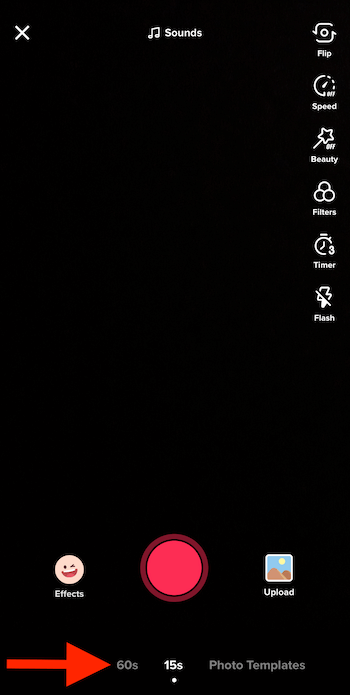 Add Music and Effects
TikTok has various unique effects and features to add to your video, including music. Users commonly create lip-sync videos in the style of Musical.ly where they mouth the words to popular songs. In a way, it's like creating your own music video. TikTok has almost every popular song on the radio available without copyright infringement issues.
To add a song to your video, tap the Sounds button near the top of the recording screen.
When the Sound library opens, you can browse new releases, genres, trending playlists, and even video game theme music. Save the selections you love to your Favorites by clicking the bookmark icon to the right of the song name.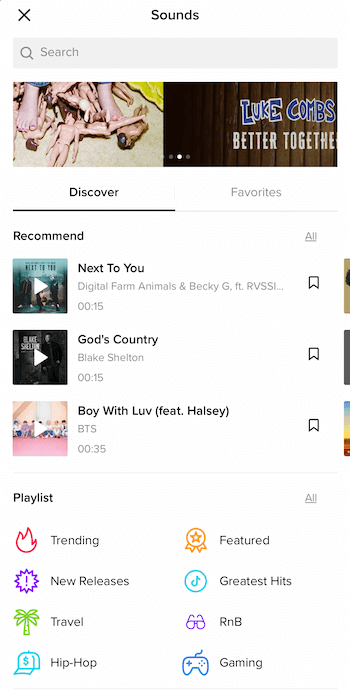 To add a song to your video, choose it from the library and then tap the red checkmark button to confirm your selection. After it loads, you return to the recording screen and the song's name will be where the Sounds icon used to be.
Along the right side of the screen, you'll find effects you can use in your TikTok content:
Flip allows you to use your front- or back-facing camera.
Speed refers to the frame speed; you can speed up or slow down your videos.
Beauty Mode blurs any skin imperfections and improves your face's clarity on the screen.
Filters gives you access to dozens of different screen colors, contrast levels, and more. Some filters make specific items look more appealing, like the options under the Food tab, which give your food recordings different visual qualities.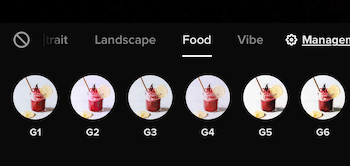 Timer is one of the features that separates TikTok from other video platforms, allowing you to create video cuts in real time. This means you can record for a few seconds of a song, pause, reposition yourself, and continue recording from the same point in the song. Use the Trim icon below Timer to adjust the length of your video.
The Flash icon is self-explanatory. It lets you use your camera's flash.
To the left of the red record button is the Effects icon. When you tap it, you'll see dozens of different effects you can add to your video. One transforms your face into a deer with a flower crown. Another adds flames to the background behind your face. Some are even interactive, where if you shake the phone while the effect is enabled, it changes your face from one warped filter to another.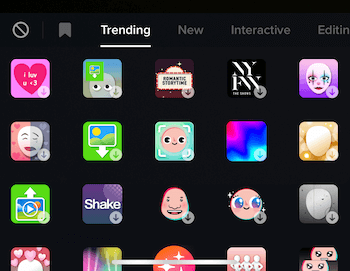 To the right of the red record button is the Upload icon, which allows you to upload a previously recorded video on your phone to TikTok. Long videos will need to be trimmed to fit within the 60-second timeframe.
Share Your Video
Once you've chosen the music and effects and recorded your video, tap the red circle with the white checkmark at the bottom right of your screen, and then tap Next.
On the Post screen that appears, you have these options:
Type a description for your video.
Add hashtags.
@ your friends.
Add links.
Decide who can see the video.
Save the video to an album.
You can also share the video to WhatsApp, Instagram, and Facebook.
Once you've finished creating your post, tap the red Post button at the bottom right to post it immediately or tap the white Drafts button to save it for later.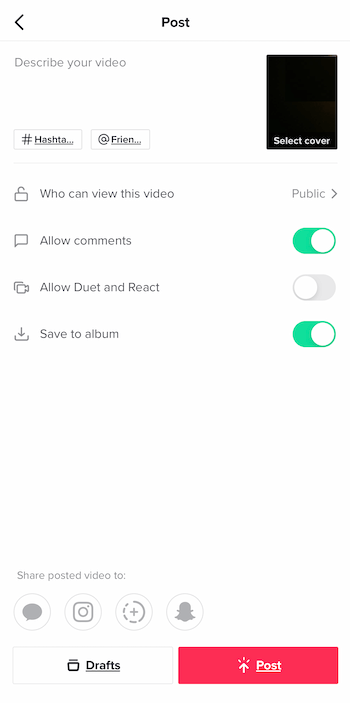 #2: Curate and Share User-Generated Content on TikTok
While TikTok's nature is fun, playful, and casual, it takes some real thought and creativity to produce content that delivers on that premise. Brands especially need to plan their content to get the best return on their efforts.
Nike has taken an interesting approach to TikTok. Rather than posting public video content of their own, they're cashing in on user-generated content (UGC). If you look at their TikTok profile, you'll see that their account is private and you have to request access to view the content.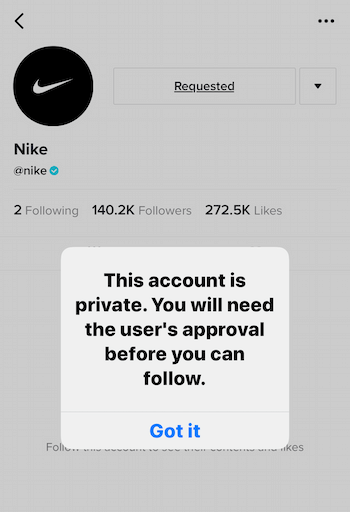 Search the hashtag #nike to see the real marketing magic. More than 929 million users have viewed the hashtag and millions of TikTok posts include it. As you scroll down, you'll see videos and GIFs of users wearing their Nikes, painting their Nikes, dancing in their Nikes, and more. This UGC is free advertising for the brand.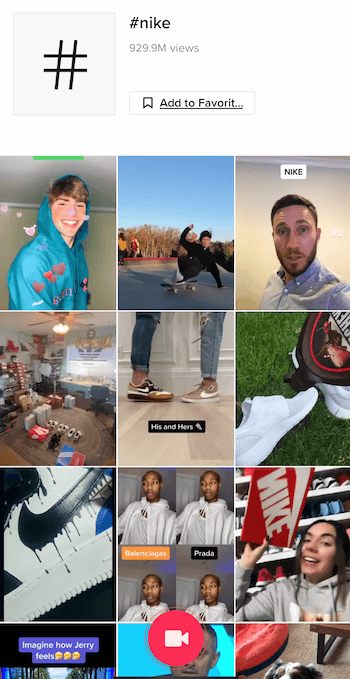 #3: Advertise on TikTok
Like other social media platforms, TikTok is moving toward a monetized future where brands can pay to have their ads shown to users. The following are four ways TikTok allows you to pay for ads from within the app.
Brand takeovers: These ads appear in the user's feed before they see any other user content. They're linkable to the advertiser's landing page and are exclusive to different categories. Basically, only one ad can show in that slot for the specific category per day.
Native ads: These video ads play between user content. They can be between 9 and 15 seconds long and include buttons. However, users can skip or scroll past these ads.
Sponsored hashtag challenges: Hashtag challenges are a big deal on TikTok. When there's a new challenge on the Discover page, millions of users can see it and join in. Your business can pay to sponsor a hashtag challenge and obtain a custom banner across the Discover page. When users tap it, they're taken to videos that your team creates explaining and demonstrating the challenge, all while promoting your brand.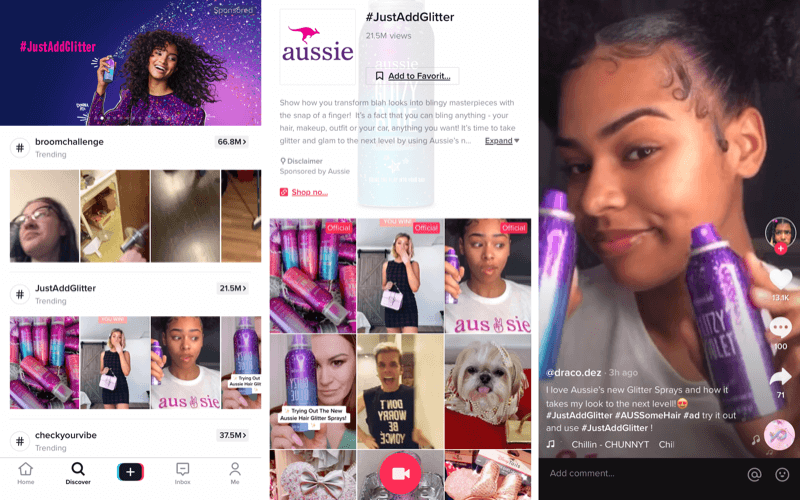 Samsung used the Hashtag Challenge feature to boost UGC while advertising new features. When they launched their Galaxy A phones, they created the #GalaxyA campaign. Users were encouraged to add that hashtag when using the features on their Galaxy A phone for TikTok.
When you search the hashtag, you'll see that there are more than 158 million views and tons of content from users showing off the features. TikTok is a brilliant platform for brands that work in design, tech, and software to demonstrate their products.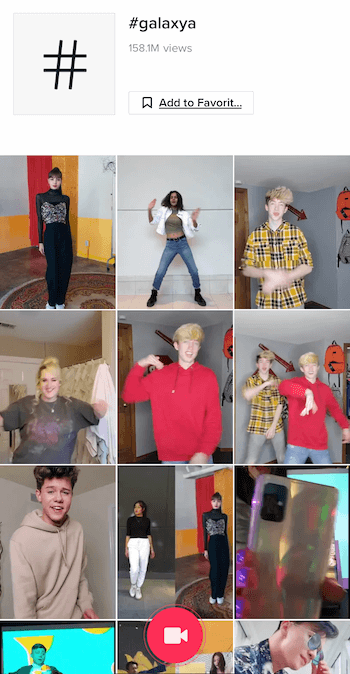 Branded lenses: Design a TikTok filter related to your business. Users can select the lens when choosing a filter for their video and it's live for 10 days. The lens is automatically included in the top 10 trending list and it comes in 2D and 3D. TikTok is currently working on an AR version.
#4: Develop Influencer-Created Content on TikTok
Like Instagram, Facebook, and YouTube, your brand can use influencer marketing to expand your reach. Influencers on TikTok have varying numbers of followers, and therefore, varying degrees of influence. Generally, the more followers an influencer has, the more expensive they are to work with. However, the ROI has the potential to be tremendous.
As a brand, you can approach relevant TikTok influencers and propose a working relationship with them but it's important to be strategic about whom you partner with. If your brand sells beauty accessories, working with a video game influencer isn't the best fit. Find influencers who work within your niche and whose personalities align with your brand's values.
For a certain level of pay, TikTok influencers might:
Talk about your product in a TikTok video.
Post about it in the video description.
Link to your brand in the description.
You've seen how successful influencer marketing is on other social platforms, and TikTok is no different. Like other influential platforms, you need to be smart about the contracts you propose and sign, and which influencers you work with.
How to Set Up Your TikTok Channel
You don't have to be tech-savvy to use TikTok for business. The app is designed to be user-friendly and easy to navigate.
To get started on TikTok, first download the app to your phone. You'll need an email address and phone number to sign up, or you can select one of the third-party platform options to log in (Facebook, Twitter, or Google). Follow the prompts to create a password. The app will automatically assign you a username, but you can change it later.
Your profile will be empty when you first create it. To update your username, tap the pencil icon or Edit Profile beside your user ID. Add your business name as the account ID or your own name if you have a personal brand. You can also link your Instagram account and YouTube account.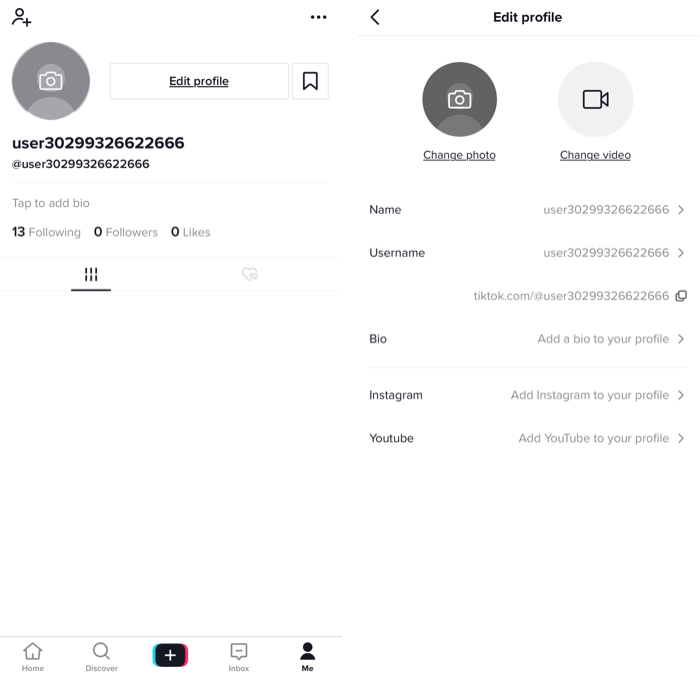 Fill out your bio too. It's limited to 80 characters so keep it simple and concise. Feel free to use emojis and language that's more playful than you might use on other platforms. For your profile photo, use your brand's logo or a photo of yourself.
Use our Tik Tok Service to Gain Followers
If you've followed all of the above, you're well on your way to using TikTok for business.
If you really want to grow your TikTok account fast, why not check out our TikTok for business. We do all the work and depending on your content, your TikTok account will grow incredibly fast.
Now is the time use this service. Early adopters to Instagram achieved huge followings quickly and reaped the benefits. TikTok is about to take off, so don't delay using it for your business.
Conclusion
To fully understand what TikTok for business is, it's important to know about its predecessors. Vine was a video recording and sharing app that allowed users to create short videos that play on loop. Musical.ly was similar, except it allowed users to add special effects and was commonly used for lip-syncing popular songs and sound bites. In 2018, the creators of a similar Chinese app called Douyin purchased Musical.ly. They combined these two apps into TikTok and entered the Western market.
TikTok is here and it doesn't seem to be going anywhere. So get familiar with the app and have some fun!
Blog credit: This article was written by Marly Broudie on the SocialMediaExaminer website. You can read the original blog post here.